Food Safety Level 1 Online Course
This online Food Safety Level 1 Online Course / HACPP Level 1  can be taken at any time and can be completed at your own pace. Stand out from the crowd when applying for jobs in the food industry by completing this course and receiving certification. On completion of this food safety & HACCP level 1 training course, participants will be able to understand their requirements under Irish food safety legislation as well as following best work practices.
According to EU and Irish Food Safety legislation, all food handlers are required to receive food safety training commensurate with their work. All food workers should receive level 1 training prior to or as soon as they commence work in or connected to a food environment. This includes kitchen staff, waiting staff, food delivery staff, kitchen porters, those working in food production and manufacturing, food business cleaning and maintenance staff or any staff member who handles food in any way.
This course should be taken before starting work as a food handler. It is aligned with the FSAI Food Safety Authority of Ireland Level 1 guidelines and helps you to meet the legislative requirement of (EC) 852/2004.
Food Safety & HACCP Level 1 Online Course Module:
Introduction to Food Safety level 1 Online
Preparing for Work
Safe Cooking & Serving Food
Cleaning & Sanitation
Importance of good food hygiene
Personal Hygiene for food workers – preventing food contamination
Recognise the various different types of health issues that poor food hygiene may cause.
Food Safety Hazards: Bacteria, Chemicals, Physical & Allergens
Food Safety Control Measures
Cleaning, sanitisation and waste management.
Legislation around food hygiene and the need to comply with the regulations.
Entry Requirements: No previous experience is required. A good level of English.
Duration: Approx. 120 Minutes at any time you choose. You can stop and restart, the course will be bookmarked where you left off. You can re-do any modules you choose to revise.
Assessment: The online assessment is 20 multiple choice questions and is taken on completion of the elearning module. The pass mark of 80%. If you do not achieve 80% on your first attempt, you will be able to retake the exam.
Certification: CPD Certification Food Safety HACCP Level 1
Upon successful completion of the elearning module, you will receive Food Safety (HACCP) Level 1 Certificate instantly and can download or print it. This can be used to provide evidence for compliance and audit. The CPD certificate is valid from 2 up to 5 years depending on nature of business, staff performance and local requirements.
Cost: €45 book below.
Other relevant courses:
If you are not sure what level food safety training you require click HERE. 
Book Food Safety Level 1 Online: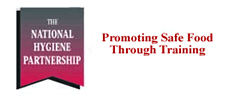 Book Online