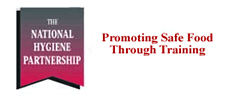 NHP Management of Food Safety Level 3, Essential Guide to HACCP Level 3 in Naas, Kildare
Next Level 3 HACCP Course NHP: March 9th, 16th, 23rd, 30th
9.30 am-4.30 pm – Delivered via Zoom
Cost: €650
Only delivered by experienced licenced NHP Level 3 Trainers. Many of our students have been nominated for the NHP student of the year awards and some have continued on to become licenced trainers themselves. We strive for top results and are the leading provider of this course in Dublin & Kildare.
This course is designed to meet current HSE and EHO requirements. Environmental Health Officers (EHOs / Food Safety Inspectors) require at least one and anyone with responsibility for managing HACCP to have a level 3 food safety and HACCP Management qualification. This is the leading qualification at level 3 in Ireland and is recognised by the FSAI and Dublin Technical University (formally DIT). It is a popular qualification for those looking to become food safety trainers.
HACCP Level 3 – Meets FSAI HACCP Level 3 Guidelines
Food Safety Level 3 – Meets Food Safety Level 3 Guidelines
A popular course for those who want to become Food Safety Trainers / HACCP Trainers
The Management of Food Safety & HACCP Level 3 – The Essential Guide to HACCP Compliance, certified by the National Hygiene Partnership (NHP) is a 4 day advanced course. This course is suitable for food business owners, managers, head or executive chefs and those responsible for implementing and managing food safety and HACCP. The course is delivered by licenced National Hygiene Partnership trainers. This course exceeds the Food Safety Authority of Ireland (FSAI) level 3 guidelines for Food Safety Skills for HACCP Management.
The National Hygiene Partnership (NHP) is a partnership of the following organisations who endorse The Management of Food Safety & HACCP Level 3 programme:
Environmental Health Officers Association of Ireland (EHAI)
Food safety Authority of Ireland (FSAI)
Irish Hospitality Institute (IHI)
Safefood – The Food Safety Promotions Board
Restaurant Association of Ireland (RAI)
Catering Management Association of Ireland (CMAI)
Vintners Federation of Ireland (VFI)
Excellence Ireland Quality Association (EIQA)
National Standards Authority of Ireland (NSAI)
Sea Fisheries Protection Authority
This training course enables food businesses to comply with EU regulations and is based on the National Standards of Ireland I.S. 340:2007 and I.S. 341:2007 publications.
NHP Management of Food Safety, Essential Guide to HACCP Level 3 in Kildare
Course Content:
Introduction
Basic Microbiology, Food Poisoning & Food Borne Disease
Personal Hygiene
Purchasing, Delivery & Storage
Food Preparation and Cooking & Reheating
Holding, Display, Service and Preservation
Cleaning and Disinfection
Food Safety Legislation
Pest Control
Design and Construction of Food Premises
Hazard Analysis and Critical Control Point
Food Safety Training / HACCP Training
Documentation & Records
Course Revision and Examination Information
Food Safety Level 3
HACCP Level 3
Course Materials: A comprehensive NHP course textbook & a copy of the relevant NSAI standard is provided to every participant on the NHP Level 3 Food Safety Management Course.
Assessment: 2 hour examination and submission of a written assignment due 1 month after completing the exam.
Certification: NHP Level 3 Certificate in The Management of Food Safety – The Essential Guide to HACCP. The level 3 Food Safety & HACCP Course is very well recognised by the industry & EHOs.
Become a Food Safety Trainer: This course is also a must for anyone who wishes to become a food safety trainer. Any trainer who wishes to become licensed as an NHP Food Safety & HACCP trainer, must receive a distinction (85% or more) to continue with the licencing process. Further details about becoming a licenced NHP trainer can be found by clicking here.
Upcoming Public NHP Food Safety Management HACCP Course Dates
Next Level 3 HACCP Course NHP: March 9th, 16th, 23rd, 30th – Delivered via Zoom
Online Booking Below Food Safety HACCP Level 3 For Management
Level 3 Courses can also be provided in-house or on demand for groups nationwide. Please contact us to discuss your requirements.
Choose start date on form below to book your course.
Book Online