Food Safety & HACCP training aligned to the Food Safety Authority of Ireland Level 2 Guidelines is the mandatory training standard for all food handlers within 6 months of starting employment in Ireland. This training meets the training requirements of (EC) 852/2004 on the hygiene of foodstuffs.
This is a certified online food safety & HACCP course and a must for those already working in or pursuing a career in the food industry whether that is in the hospitality, healthcare, childcare, production or manufacturing industry.
Food Safety Online Course Content:
Food Poisoning
Micro- Organisms in Food
Food Contamination
Food Safety Law
Safe & Clean Premises
Waste & Pest Control
Personal Hygiene
Food Safety during Delivery & Storage
Food Safety During Preparation
Cooking & Cooling
Food safety During Service and Home Delivery
Entry Requirements: No previous experience is required. This course covers all aspects of level 1 and level 2 food safety training requirements.
Certification Test: On completion of modules you will complete a certification test to ensure competence. You must achieve a pass mark of 60%. Certification aligned to FSAI Level 2 Guidelines.
Cost: €75 sign up below the book now button.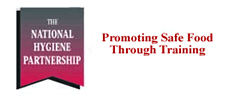 Book Online