Food Safety Level 1
This Basic Food Safety Level 1 Training Course is aligned to the requirements set out by the Food Safety Authority of Ireland level 1 guidelines.According to food safety legislation all staff working with food must receive training commensurate with their level of involvement. HACCP Level 1, Food Safety Level 1, Food Hygiene Level 1.
Who should attend this Basic Food safety Training Course:
New employees with no previous experience
Food Workers with light food handling duties
Support workers (maintenance / kitchen porters) and food workers performing low risk duties
Course Duration: 3 hours
Course Objectives:
Identify the risks and hazards in food preparation
Define food poisoning, understand how it occurs and the main causes of food contamination
Explain the importance of correct storage, preparation, handling and cooking of food
List the legal responsibilities of the food worker
List the structural requirements of a food premises
Recognise a pest infestation and how to control it
Explain the importance of cleaning and cleaning schedules
Explain the purpose of HACCP
Course Content:
Food Safety Awareness
Food Contamination and Prevention
Safe Food Procedures
Personal Hygiene
HACCP – Hazard Analysis & Critical Control Points System
Food Safety Law in Ireland
Assessment: Theory Test
Certification: Level 1 Food Safety & Hygiene Certificate
Participants: Maximum 15
Refresher Training: Food handlers who remain in the industry should progress to level 2 training.
Next Course: January 29th 2019, Smithfield
Online Option: Food Safety Level 1 can be completed online at your convenience here.
To arrange training for your staff please contact us.
It is recommended that all food workers progress to Level 2 Food Safety Training within 6 months of starting employment. Many employers choose to skip level 1 and go straight to level 2. The options for level 2 Food Safety Training are as follows:
FSPA Food safety & HACCP Level 1&2 Accelerated 1 day course
The Primary Course in Food Safety EHAI Level 2
Online Principles of Food Safety & HACCP Level 2
Choice Training & Consultancy provides accredited Food Safety & HACCP Training and is registered with the Food Safety Professionals Association FSPA, National Hygiene Partnership NHP, and the Environmental Health Association of Ireland EHAI. Our trainers are highly qualified and experienced.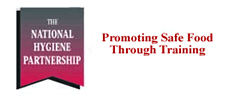 Book Online