Office Ergonomic Assessments including VDU / DSE assessments are a legal requirement for all habitual users of visual display unit (VDU) or display screen equipment (DSE). Habitual users are those who use a PC, laptop or screen for longer than 1 hour per day. This certified online course complies with the Safety, Health & Welfare at Work Act (2005) Display Screen Equipment (General Application) Regulations 2007.
Display Screen Equipment and bad ergonomic workspace set up will cause risk of injury or cause ill health such as musculoskeletal disorders, especially upper back and limp pain, stress, fatigue, headaches and eyestrain. Proper training and good ergonomic set up will greatly reduce risk.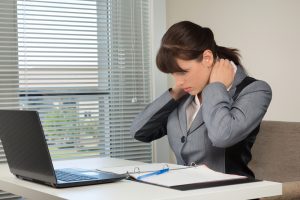 Online Course Contents:
Ergonomics & Terminology
Health & Safety Law
Workplace Injury & work Related Injury
Organising Your Workspace
Maintaining a Safe Work Environment
Entry Requirements: No previous experience is required.
Duration: Approx. 60 – 90 minutes at any time you choose. You can stop and restart, the course will be bookmarked where you left off. Work through this course at your own pace. There will also be a 15 minute workstation assessment to meet legal requirements.
Theory Test: On completion of modules you will complete a short theory test online. You must achieve a pass mark of 60%.
VDU / DSE Assessment: Following successful completion of the theory element, our qualified assessor will complete a workstation assessment. This takes approximately 15-20 minutes.
Ergonomic Report: Following the Workstation Assessment the employer is provided with an assessment report including comment and recommendations to ensure legal requirements are being met.
IT Requirements: Internet Connection, Laptop or PC with Flash Player 8.0 or above or a tablet with Flash enabled browser.
Cost: €50 including a 15-minute workstation assessment.
Book Online