Choice Training and Consultancy provide a blended approach to training. We work with small companies with less than 10 employees and large multinationals with 1000's of employees. We understand there is a demand for bespoke and online solutions for both SMEs and multinationals and work closely with our clients to offer training solutions.
Our corporate online training solutions provide a cost-effective way to increase compliance while saving you time. Scheduling hassles are eliminated, a full audit trail is provided and consistency in mandatory training is increased.
Our dedicated team provide a hassle free, efficient service, making our cloud based solution is easy to implement. It has never been more easy to comply with legal requirements.
Branded Learning Management System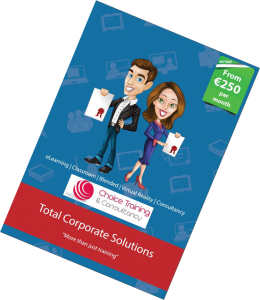 Click to view Total Corporate Solutions brochure