Become a Manual Handling Instructor. Frequently asked questions about the 4 day QQI Level 6 Instructing Manual Handling Course. 
More and more businesses are training up in-house QQI Manual Handling Instructors as it's very beneficial to have an on-site trainer for ongoing training and improvements in Health & Safety. There is a also a huge growth in individuals seeking to become qualified trainers who do freelance training or for managers and health and safety consultants to expand their offering. Here are the answers to some common questions about our Manual Handling Instructor Courses:
Q: Do I need to have a valid manual handling certificate to do the course and become a manual handling instructor?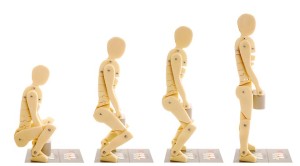 A: No, we start with the basics so no previous training is required.
Q: Is this course certified and recognised by the Health & Safety Authority?
A: Yes, QQI Level 6 Instructing Manual Handling 6N0233 is the recommended course by the HSA.
Q: How long does the course take.
A: 4 Full Days. You will be required to do some practice, study and course work between training days.
Q: Is there an assessment or exams?
A: Yes. To successfully complete the course you will complete a skills demonstration worth 60% including a short presentation on a theory topic and delivery of a practical manual handling skills training session. A short test worth 20% and a short manual handling risk assessment project 20%. It is a hands on course and you will be well prepared by your tutor for all elements of assessment.
Q: Can I train my own staff after this course?
A: Yes, once you satisfy all the requirement of the course, you can train and certify your team.
Q: Can I become a free lance trainer or set up a training business and deliver Manual Handling Training.
A: Yes, you will be fully qualified to teach, assess and certify other in Manual Handling. This is often the first course that those seeking to become trainers complete.
Q: Are course notes provided?
A: Yes, you will receive a Manual Handling Instructor Handbook and relevant notes. Associated documents can also be accessed online.
Q: Will I need to buy training materials after the course?
A: We provide everything you need in terms of a PPT Presentation, paperwork including sign-in sheets, registration sheets, assessment documents and certificate templates via a secure link. As our paperwork is updated, so is yours, so you'll always have up to date materials.
Q: What do you wear for a Manual Handling Instructor Course
A: Comfortable, casual clothing, closed toe shoes or trainers are ideal. This is a hands on course so clothing that does not restrict movement is best.
Q: How much is the course?
A: We are still offering our special summer rate of €595. A huge cost saving for companies to have in-house Manual Handling Trainers. Freelance trainers will quickly recoup the cost when they start delivering courses.
Q: I'm nervous about training others, help!
A: That is perfectly normal. Our Instructor courses are very supportive and you'll get lots of practice in small helpful groups. Once you've practiced your confidence will grow.
Q: Do I need to do a Train the Trainer course as well to become a Manual Handling Instructor?
A: No. The QQI Instructing Manual Handling Level 6 is a Special Purpose Award to allow you to teach Manual Handling. However, if you want to train people in other areas we would recommend a Train the Trainer Course.
Okay, I want to become a Manual Handling Instructor – Book Here
Still have questions? No, problem. Please do not hesitate to contact us with any questions or call Orlagh on 045832923 Kildare or 019020136 Dublin.